Overview
The Scottish Food Enforcement Liaison Committee (SFELC) Approved Establishments Working Group was tasked with developing methodologies which would enhance the approval process as well as the delivery of official controls in establishments liable for approval under Regulation (EC) 853/2004.
Previous deliberations had resulted in a proposal to transfer the responsibility for approval of establishments to Food Standards Scotland (FSS). However, following consultation with the Society of Chief Officers of Environmental Health in Scotland, FSS agreed that the status quo should prevail, albeit with an enhanced inspection methodology and revised, consolidated protocol. The documents referred to in this consultation are part of a wider package of measures being developed by SFELC and are designed to imbed a consistent and robust approach to the verification of food safety management systems and to align the rules and processes governing approval with those applied by FSS Operations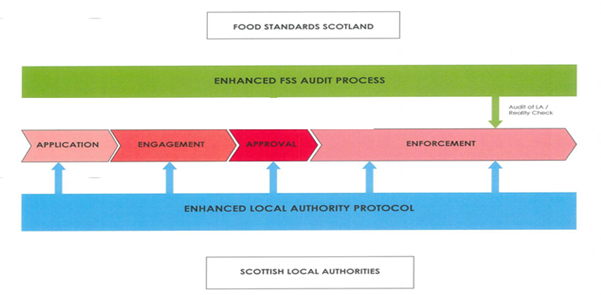 Verification of Food Safety Management Systems: Principles for Official Controls in the Approved/Manufacturing Sector*
This guidance seeks to reinforce the principle that the effectiveness of a food safety management systems (FSMSs)  is of paramount importance in the protection of consumers against food borne illness and that the verification of FSMSs during Official Controls is conducted systematically and with scientific rigour.  In effect, it is designed to ensure that FSMSs are verified both in terms of their validation and of their implementation.
Approved Establishments National Protocol for Scotland*
This protocol is intended to provide guidance and instruction to officials involved in the approval of establishments.  It will apply to both LA and FSS officials involved with approvals and will replace the two separate existing guidance documents (currently separate guidance for LA and FSS approvals). It should be noted that it will replace the guidance recently consulted on by FSS in March this year.  Where applicable, responses to that consultation will be considered alongside responses to this consultation.
Why your views matter
To allow stakeholders the opportunity to comment on the draft Verification of Food Safety Management Systems: Principles for Official Controls in the Approved/Manufacturing Sector, the draft Approved Establishments National Protocol for Scotland and respond to the consultation questions.
What happens next
Following the clolsing date of the consultation, all responses will be analysed, and will help inform the SFELC Approved Establishment Working Group on finalising the documents.